What We Do
Locally Built. Nationally Recognized.
Dane Street provides IME and Peer Review services covering the lines of business and referral types listed below. Dane Street's QA team of nurses and claims personnel provides quality assurance on 100% of files prior to delivery to our clients. Our QA team averages over 15 years of direct industry experience and their focus is ensuring that each report clearly addresses the questions that were asked. Our QA team, along with our operations staff, provides customer support from 8AM EST to 8:30 PST to provide outstanding customer service for all time zones. Dane Street's designated account managers provide a single point of contact for clients and are available via office phone, cell phone, email and instant messaging. In addition, we provide all clients with a contact sheet listing the contact information for their Operations Manager, Lead Clinical account contact and Senior Management team.
Workers' Compensation
IME
Utilization Review/Physician Advisor Services
Record Reviews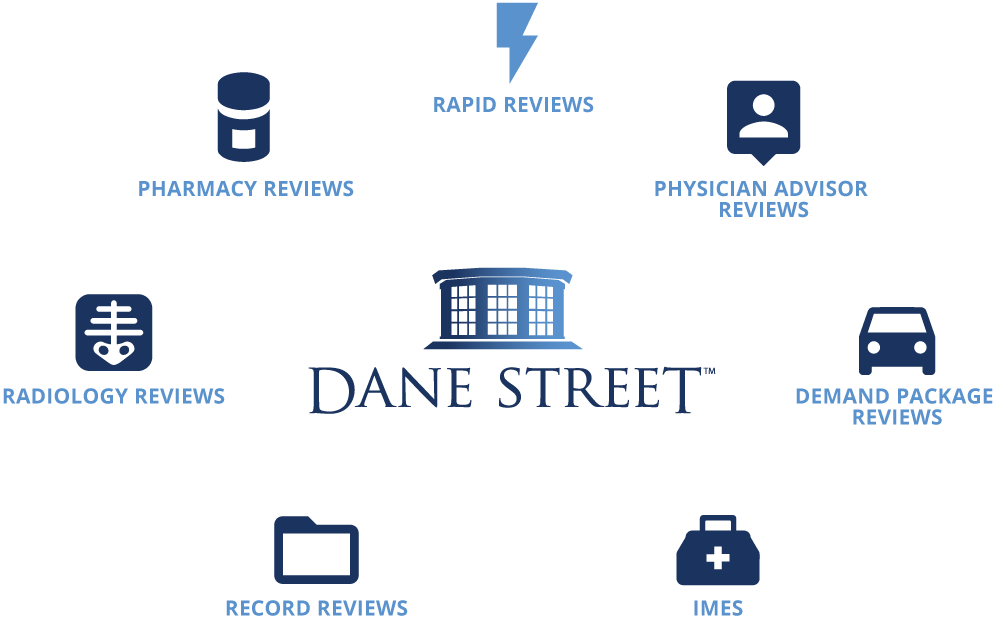 Pharmacy
Comprehensive Drug Utilization Reviews
PharmD Medication Reviews
Disability
STD/LTD (IME and Record Reviews)
FMLA/ADA (IME and Record Reviews)
Auto / Liability
PIP/MedPay (IME and Record Reviews)
3rd Party IME/Demand Package Reviews
Group Health
Utilization Review/Physician Advisor Services
Quality of Care
All of our services include medical sorting & labeling by our Intake Team. Each final report includes a chronological listing of medical records, clinical summary and determination for each question, supported by a clear and compelling rationale based upon appropriate evidence-based guidelines. In addition, all Peer-to-Peer attempts and conversations are documented in detail. Custom report templates and client-specific handling instructions are easily handled by our staff and portal.
In addition to receiving referrals via Dane Street's AccessDS platform, we can accept referrals today via secure email, e-fax, overnight package, FTP, or via real-time inbound & outbound integration with clients' internal referral system. Dane Street will communicate with your team proactively to specify any additional information needed for our Physician Advisors that is not provided in the portal, or via your referral cover sheet or medical records.
As part of each Client Profile, we will document your specific requirements around such program options as state match, specialty match, peer-to-peer conversations, report templates and turnaround time.